COURSE TUITION
PREPAID
$
355
Payment must be received 5 business days prior to class date
NON PREPAID
Payment that is received WITHIN 5 Business Days of class date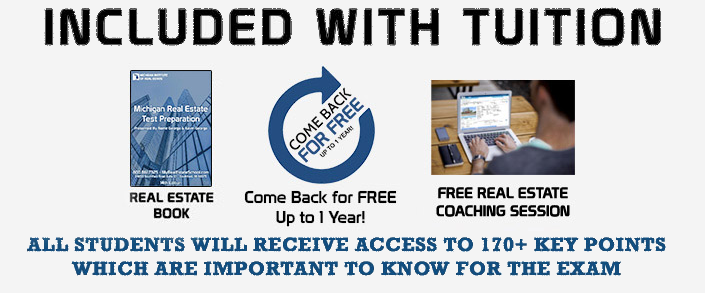 PERSONAL CHECKS WILL NOT BE ACCEPTED AT THE DOOR.

Methods of Payment : Cashiers Check, Money Order, Visa, MasterCard, Amex or Discover
Cancellation / Refund Policy
Classroom Overview
This is a popular option for someone who works best in a hands-on environment with other students. Our classroom course is taught in a traditional classroom setting with an instructor leading the class. Our instructors have been practicing Real Estate for at least 10 years or more and offer a wealth of information to aid in your success. Each classroom course includes the textbook for students to follow along, with additional material such as multiple choice questions, true/false, word matches, and fill in the blank questions to use when preparing for the State exam. We offer both daytime and evening courses to accommodate various schedules.
Students are allowed to re-attend any class FOR FREE WITHIN ONE YEAR of graduation!


Real Estate Book (PDF) - FREE (While you wait for class to start)


Free Real Estate Coaching Session
This is PERFECT for anyone starting out in real estate. Once you're licensed, you will be able to set a session with an experienced real estate professional who will map out a blueprint that will help you gain clarity and direction to get a fast start in the industry!


Free Access to Live Group Tutoring Webinar for ONE YEAR!
---
Pen/Pencil
Highlighter
Notebook
Basic Calculator (Independent of Cell Phone)